Stay in touch via your inbox
Sign up to receive emails with our weekly ad, information about special events and offers.
About our store
Local since 1947
Miners has been in Sunnyside since 1947. Miners has come a long way from the "company store" it once was for Kaiser Coal. Our customer service sets us apart from regular grocery stores. We offer carry out service for grocery purchases, a clean, bright modern store, with the freshest meats, produce, and bakery items.
We create an extremely unique and local family-driven product during a time when bulk orders and massive retail conglomerates seem to dominate every shopping situation.Our stores bakery has become the local wedding shop with Brittnie being our "go-to" girl for wedding cakes.
Fresh Food Everywhere
To eat right and stay fit, look to fresh produce as the answer for your nutritional needs. We go to great lengths to carry only the finest fruits and vegetables and to deliver them in the same excellent condition as when they were picked.
You demand and deserve the best in meat, poultry and seafood. Our fresh meat department is designed to satisfy even the most discriminating guests and ensure their satisfaction. Plus, our in-store butchers have a thorough knowledge of the items they carry and provide insight unavailable anywhere else.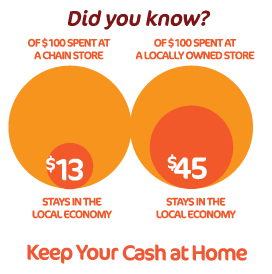 Pays to Stay Local
Think about it: would you want $13 or $45? For most people, that is a "no-brainer." Still, we have people shopping at the big box stores taking no thought for how it affects the community feel of our neighborhood.